Our marmot ointment is a proven natural remedy.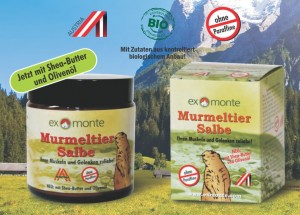 The oil obtained from marmot fat has for centuries played an extremely important role for we human beings. With its physical and chemical properties, marmot fat has many applications for a very wide range of ailments. The fat has very low water content (10-12%) and the plants the marmot eats make it rich in vitamins D and E.
Our marmot ointment is entirely paraffin-free. A completely natural top class product.
marmot ointment usage:
Lightly massage into the skin of your muscles and joints twice a day (at night before going to bed, and in the morning when you get up). The positive effect will be felt in just a few days. After about three weeks you should pause the treatment for a week.
Relief for your muscles and joints!
This salve, popular in folk remedies, is particularly useful for stressed joints, tense muscles in the cervical, shoulder, upper and lower arm and leg areas, and in cases of gout, arthritis, rheumatism and spinal ailments, and joint complaints and inflammation. The areas massaged are loosened and refreshed, and the blood circulation in the skin is activated which, in turn, promotes natural regeneration. The beneficial effect is felt in just a few days.
comments off admin | Allgemein